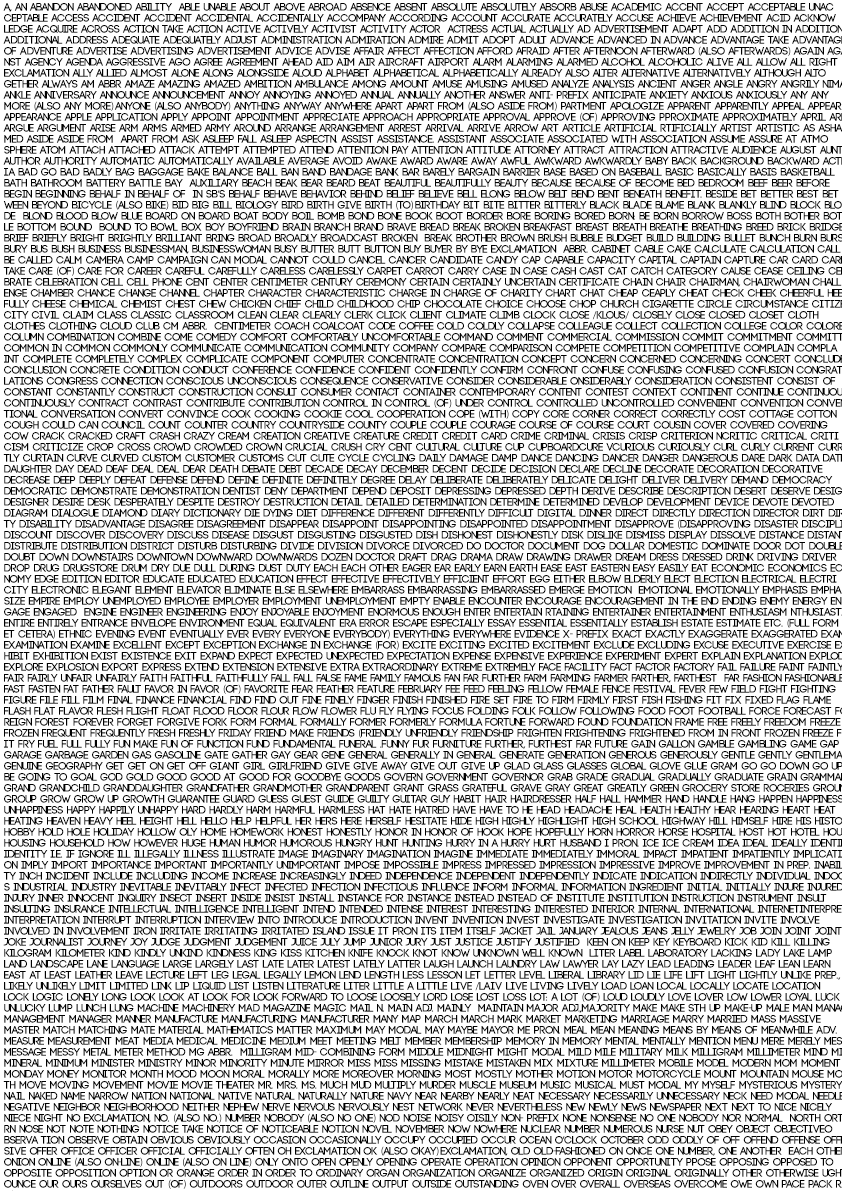 Wednesday, 18.4., Thursday, 19.4.

Sound installation
The concept of this work is based on language and forms of communication. Martiroyan´s contribution to FAR OFF will be a site-specific  installation where language is used as a material and mixes with the spoken word of the present time.
For me it is significant, how bygone forms of expression during a live conversation can be transformed in time and be recreated newly. Each person is a "language collage" onto which the recorded, historical material will be added.
Image: 1500 words from the Oxford dictionary. For me it is a symbol of the pure module of linguistic material, wherein all forms of texts and conversations already exist.
Gohar Martirosyan
Personal Data:
Date of birth: January 27, 1991
Place of birth: Republic of Armenia, Gyumri
Nationality: ArmenianEducation:
2004-2009 Children's Art School
2009-2012 Belorussian State University, Faculty of Object-space Environment Design
2012-2013 Yerevan State Academy of Fine arts . Faculty of Graphics

__________________________________________________________________________________

• 2012 "Between Mountains and Sea" Exhibition in the Frames of Gyumri 8th International Biennial, Gyumri, Armenia
• 2014 Art festival "Imag(in)ing The Future", The Armenian Center for Contemporary Experimental Art: ACCEA "NPAK", Yerevan, Armenia
2014 Exhibition "Gyumri Living Art", Gallery 25, Gyumri, Armenia
2014 Armenian & Japanese Contemporary Art Exhibition, Gallery 25, Armenia
2014 Exhibition "[in order] to live", Dalan Art Gallery, Yerevan, Armenia
2014 One Caucasus Art Festival, Tserakvi, Georgia
2015 First International "ART Expo'15" Yerevan's Hay Art Cultural Center, Yerevan, Armenia
2015 Solo project, light installation "Parda" Gallery 25, Gyumri, Armenia
2015 Exhibition 25G25 , 25 years German Reunification, Gallery 25, Gyumri, Armenia
2016 International Art and Music festival "Hearing Art Seeng Sound- HASS" The Armenian Center for Contemporary Experimental Art: ACCEA "NPAK", Yerevan, Armenia
2016 Solo exhibition "North" Gallery 25, Gyumri, Armenia
2016 Installation View "the tide is coming", in the frame of Art Residencies Transcultural ArtLab, Juist Northen sea, Germany
2017 Exhibition "Human Planet", «Depo» Gallery, Istanbul, Turkey
2017 Project «Tarara», Triennial of Concemporary Art in Armenia,"The Mount Analogue", Yerevan, Armenia, (collaboration with artist Marta Dell'Angelo).