PERFORMANCE PROGRAM > MAIN HALL
(Bromp Treb Falling_Philadelphia_Nov2015_photoby_FafnirAdamites)

Thursday, April 14, 2016:
6:00 p.m. Taka Kagitomi (sound objects, audio visual performance)

Der Alchemist der Rheinschiene baut Klangobjekte und Skulpturen aus Fundstücken. "Ganz im Geiste des Fluxus, können und sollen die Steampunk-Assemblagen auch angefasst, verwendet und mit diesen auch gespielt werden. Ihr poetisches Assoziationspotential erschöpft sich also nicht in der Skurrilität ihrer Erscheinung oder in einem vermeintlich spektakulären Aha-Effekt, sondern appelliert an die Bereitschaft des Besuchers, die übliche rezeptionelle Passivität zu verlassen und etwas zu tun.Und wenn der Besucher nichts tut, tut Kagitomi selber etwas." (Perisphere) http://www.kagitomi.de/
7:00 p.m. Jerome Daly
8:00 p.m. Inauguration speech (Maria Wildeis)
8:30 p.m. Eberhard Kranemann (Dada-Fluxus-Performance)

Eberhard Kranemann, Kraftwerk-Grungsmitglied, will be presented by Weithorn Galerie Düsseldorf. http://www.e-kranemann.de/
https://www.youtube.com/results?search_query=eberhard+kranemann&suggested_categories=10&page=1
http://www.weithorn-galerie.de/kuenstler_kranemann_performance.html
https://www.youtube.com/watch?v=nWYCO-XxXZc >>> Vorspann
https://www.youtube.com/watch?v=TEeet2NSQyg >>> Kurzvideo
9:00 p.m. Julia Bünnagel (live set with modified vinyls)

Julia Bünnagel is a contemporary sculptor and sound performer. Working with sound performance and art installation. Bünnagel performs with modified records which produce the sounds. The modified records with sawed, painted or pasted surfaces mixed together to driving rhythmic soundscapes. The turntable becomes a musical instrument. White Noise, fragments of music and loud dirty beats! https://www.juliabuennagel.com
10:30 p.m. Pappen im Nebel (audio visual concert)
Friday, April 15, 2016:
8:00 p.m. Ali Chakav (audiovisual performance)

Ali Chakav is a multi-disciplinary experimental artist, born in 1984 in Tehran, based in Cologne-Germany.
In 2003 he graduated Communication Design at the AZAD art university in Iran and since 2012 he studies Media Art at the Academy of Media Arts Cologne, Germany.
His Artworks focus on investigations into the potential of Art as a media, with experimental behavior in hidden layers in the environment.
9:30 p.m. ML (Comeme/NTS Radio) (Ambient)
Saturday, April 16, 2016:
6:00 p.m. Nicola Hein (guitar, effects)
As a guitarist he is mainly concerned about the search for new sounds on his instrument. He plays electric and acoustic guitar with or without preperations and tries to find new ways of playing the guitar within the context of Free Improvised Music and Jazz. He plays the guitar with his hands and plectrum but also with a lot of different objects: screws, rulers, iron wool, violin bow, abrasive paper, magnets and many other objects which are part of his musical vocabulary. The result is his very own world of sounds, which is using the rich potential of the guitar as a creator of sounds. The manual creation is a very important character of this sound world, which never gets distorted by the use of electronic effects.
7:00 p.m. Ketonge (effects, electro acoustics)

ist ein deutscher Komponist, Bildhauer und Medienkünstler.

Ketonge studierte Kunst, Musik und Psychologie an der Kunstakademie Düsseldorf, der Kunsthochschule für Medien Köln, der Hochschule für Musik und Tanz Köln sowie an den Universitäten Köln und Siegen und graduierte mit den Abschlüssen Diplom, Meisterschüler und Zertifikat in den Jahren 2005/2006.

Er war und ist Mitglied mehrerer Ensembles für experimentelle Musik u.a. bei Fantasmophonika mit Simon Rummel und den Singenden Landschaftsmalern mit Oxana Omelchuk und Constantin Herzog. Im Jahre 2000 erhielt er mit dem Ensemble Die Kugel mit Dorothee Haddenbruch, Ligia Liberatori, Josef Rebbe, Simon Rummel und Juan María Solare den zweiten Preis beim 6. Internationalen Musikwettberb für junge Kultur Düsseldorf, sowie weitere Auszeichnungen und Nominierungen, so zum Beispiel vom Berliner Fraunhofer-Institut (netzspannungen) für seine theoretischen Überlegungen zu Kunst und Musik im Jahre 2005.

Konzerte und Performances wurden mehrfach im Radio und TV dokumentiert, etwa die Produktion Radio Unerwartet mit dem Komponisten und Jazzpianisten Simon Rummel zu Themen der experimentellen Kunst und Musik.
8:00 p.m. JCANAL - ALL FLOWERS METASTASIZE (reading, video, performance)

Inside of me I dream of the abnormal growth of cells constituting a strangers flesh, organs deprived of function swelling and scattering, brute and palpitating I gasp for air while they tear apart my body.

"All Flowers Metastasize" is an approach to physical illness, especially to cancer linked to the unfortunate contingency of being a witness to the demise of a loved one by the exact same wounds and malformations this dreams consisted of.
It deals with a life ordeal, which unfortunately we can all relate to first, second, or third hand, it is atemporal and extremely human. Beyond the state of grief I look into the essence of this condition, question it, search for it, reason with it, and find its inner rhythm maybe even the beauty inside of it.
8:20 p.m. Ale Bachlechner - embodimentalisation (performance)

Ale Bachlechner will give you an introduction to Embodimentalisation, combining the well established coaching techniques of visualisation and mental training with the concept of embodied cognition into one set of powerful exercises. You are invited to work with a sequence, tailored to your individual development goals. What would you like to improve?
9:00 p.m. ER&WE (dj set)

Das Team ER&WE, bestehend aus Nicole Wegner und Meryem Erkus, führt durch einen Dschungel aus Noise und Ambient, Trap und Post-RNB, Elektronischem, Kraut und allem was dazwischen steht. Was bei ihren Sets niemals fehlt: Vertracktes, Aneckendes, markante Phasen, die manchmal auch wehtun können.
10:00 p.m. Leonhard Huhn (saxophone, electronic) & Sebastian Müller (guitar, effects)

Zu zweit tauchen L. Huhn und S. Müller John Coltranes "Love Supreme" in ein elektrisierendes Bad.
Drones, Distortion, Modulationen und ein Psalm.
11:00 p.m. Tzeshi Lei (audio visual concert)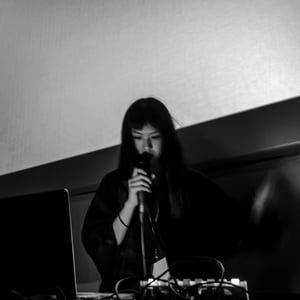 Metamonster is an audio-visual performance project from digital artist/performer Tzeshilei, who experiments and exploits new technologies for ancient purpose: the synergy of flesh and energy. This is a project that brings her research on cognitive hallucinations and synesthesia in action: a weird, wild spectrum of the synchronization of projection, flicker and sound invites the audiences into a sensational yet obscure tale of embodiment, cybernetics and obsolete materiality, amplified physically and unphysically by dirty low frequencies and ranting highs. https://vimeo.com/tzeshilei
Sunday, April 17, 2016:
5:30 p.m. Neil Young Cloaca (USA) (body, sound and performance)

Bromp Treb is clumsy body music and obtuse gesture used to dance against rhythm. Cloaca sets the table for a messy dinner of intentionally-unstable systems of cheap synths, effects pedals and fried circuitry, tape manipulation, amateur phonography, collaged beats, and poor drumming technique. His recipes are quickly disposed of with abrupt digressions and improvised chain reactions that amuse and confound.
http://yeay.suchfun.net/artists/bromp2info.html
https://www.youtube.com/watch?v=b_yr7YiqZ48&feature=youtu.be
7:00 p.m. zo-on slows (aka. Echo Ho) with visuals from Rivera (aka. Gonzalo Rodriguez) (sound performance)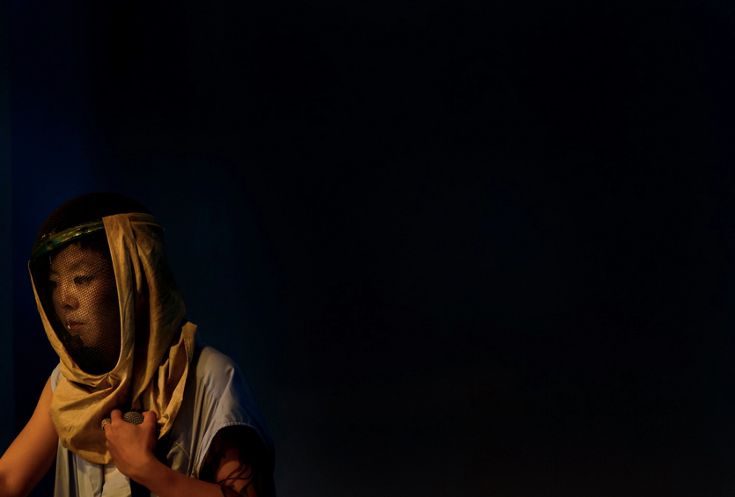 Echo Ho is a Cologne-based artist and composer. Her artistic practice often
shows a complex migrational context and conceptual links of culturally
diverse materials and artistic discipline.

As a musician she works with field recordings, experimental electroacoustic
composition, and she performs live and collaborates with musicians from
around the globe.

From 2007 to 2013, Echo Ho re-invented the oldest traditional Chinese
string instrument Gu Qin into a "Slow Qin". For her recent band project
"zo-on slows", she develops a 40-minutes to one hour improvised solo show
for various stages, bringing audience on an unexpected journey, where the
sonic texture illustrates an acoustic road movie by merging field recording
with voice and noise, fusing experimental beat and Slow Qin tunes.

More information: www.echoho.net

Photo: Bernd Arnold (Quelle: Hallraum Worringer Platz)

In cooperation with the participating galleries at FAR OFF: Tiefgarage (Maria Wildeis), GOLD+BETON (Meryem Erkus), MUU Galleri and Weithorn Galerie and Alisa Berger (bergernissen / P66). Coordinated by FAR OFF.

CLUB


Easter – Smar Still Promo Photo




Saturday, April 16: FAR OFF & Ancient Future @ JackWho with
> EASTER * live (JESUS) http://easterjesus.com/
< JEANDADO *live (Supermoll Musik)
> MOSCOMAN (Disco Halal)
< BONNIE (Musique Couture)
> OSKAR OFFERMANN (WHITE | mule musiq)
< Max Schmitt (Ancient Future Now)
> Philipp Fein (Ancient Future Now | Feines Tier)
< Jonathan Haehn (Ancient Future Now)

Opening Hours


Opening Reception Thursday, APR14: 8 – 11 p.m. (Entry 5 €)

Friday, APR15: 4 – 11 p.m. (Entry 5 €)

Saturday, APR16: 4 – 11 p.m. (Aftershow-Party FAR OFF & Ancient Future starting at 12 p.m. @ JackWho) (Entry 10 € – FAR OFF+Party)

Sunday, APR17: 3 – 8 p.m. (Entry 5 €)