Wednesday, 18.4., 21:15 Uhr
Saturday, 21.4. 16:00 Uhr
A collection of experimental film and digital art from FAR OFF 2016 and 2017 and new works.
REUT SHEMESH & MELANJA PALITTA: Let´s Catch Tigers, 2013, Israel / Cologne (04:14)
MIKOłAJ SOBOCZAK & NICHOLAS GRAFIA: The storm and hot desires, 2015 (05:28)
JAN SOLDAT: A weekend In Germany, 2013 (24:34)
VIKTOR BRIM: Monoscape, 2017 (16:41)
LINDA NADJI: AufZu, 2009 (1:39)
FRANCA SCHOLZ: Radical Slackerism (03:11)
WALTER SOLON: Downtown Research, 2015 (13:35)
MONA KAKANJI: Window Shopping, 2015 (05:32)
SEBASTIAN THEWES: Polarflux, 2015 (10:01)
STEFAN RAMIREZ PEREZ: AS MUCH AS ANYONE, 2016 (16:43)
JORGE LOUREIRO: Transcendental: The Impacting Secrets of Daily Life/An Attempt to Self-Reinvigoration, 2015 (10:06)
LINDA FRANKE: Inland Freaks, 2014 (14:13)
TEN by MÆTHS, 2014 (03:42)
HEIDI HöRSTURZ: Yoyu Attacks!, 2016 (03:00)
JéRôME CHAZEIX: Die Monade, Kampf auf der astralen Ebene, 2009-2014 (13:46)
Reut Shemesh & Melanja Palitta: Let's Catch Tigers ( 04:14, 2013 | Israel / Cologne)
A production from 'Summerblut Festival 2013' and the 'Jewish community Chorweiler Cologne'
The short dance film, Let's Catch Tigers is danced by eight older women in the age race of 65 to 75 years old. The film is presenting their life experience and emotions with in the form of dance. by performing a personal solo by each and every dancer, they reveal their incredibly reach life experience. They transmit their emotions and presence by using their unique physicality, they dance and move carrying their history and authenticity within every movement and gaze. The short dance film is a result of a six weeks process, forming a complicated dance piece focused on solo works. In addition to the complete dance piece we have been creating the short dance film Let's catch tigers.
Festivals:
November 2014 Marienfelde festival Berlin
November 2014 Cagliari Sardinia
July 2014 Radar dance film program -symposium at Simon Fraser University in Vancouver Canada (CAN)
Reut Shemesh (1982 IL) studied dance and choreography at the ArtEZ Institute of the Arts in Arnhem and then completed a Masters degree at the Academy of Media Arts in Cologne. Alongside her artistic work, she is teaching choreography in several institutes such as the Heinrich Heine University in Düsseldorf and at the University of Cologne. Shemesh's artistic spectrum ranges from contemporary dance and choreography through experimental film to poetry. Her works were presented at national and international venues, such as tanzhaus nrw, Jewish Museum Berlin, HELLERAU Dresden, Tanzhaus Zürich, TheatreLab NYC, Kunst Halle Düsseldorf, International Exposure Israel, Korzo theatre Den Haag, Institute France Dakar Senegal and Arp Museum Rolandseck among other theatres and festivals. For her work LEVIAH, Shemesh received the Cologne Dance and Theater Prize 2016. The film LEVIAH was presented in 2017, among others, at the Oberhausen Short Film Festival and Art Cologne. Currently, Shemesh is developing a research project 'WITNESS'  a co-production between tanzhaus nrw & Tanzgarde der Karnevalsfreunde. Shemesh is invited to be the next season's residence at K3 | Tanzplan Hamburg.reutshemesh.com
Mikołaj Sobczak & Nicholas Grafia – Sturm und Drang (5:28)
Mikołaj Sobczak and Nicholas Grafia started to collaborate in 2015. Within their artistic practice, which is focused on video, performance and painting they are taking on contemporary social and political issues, placing them against elements of western and eastern pop culture, while making use of different modes of visual narration. In the movie "Sturm und Drang" they are trying to create a remix of TV realities, politics and literature, working against the backdrop of German poet Ghoete's "Urfaust". They are joking, but in a serious way. So, without further ado, have a look and let them invite you to this bitter cocktail.
Mikołaj Sobczak – was born in 1989 in Poznań, Poland. He has studied at the Academy of Fine Arts Warsaw, the Universität der Künste Berlin, and the Kunstakademie Münster in Germany. In 2016 he was a recipient of the scholarship programme "Young Poland".
Nicholas Grafia – was born in 1990 in Angeles City, Philippines. He has studied at the Kunstakademie Münster (DE), School of Arts and Cultures Newcastle (UK) and the Kunstakademie Düsseldorf (DE).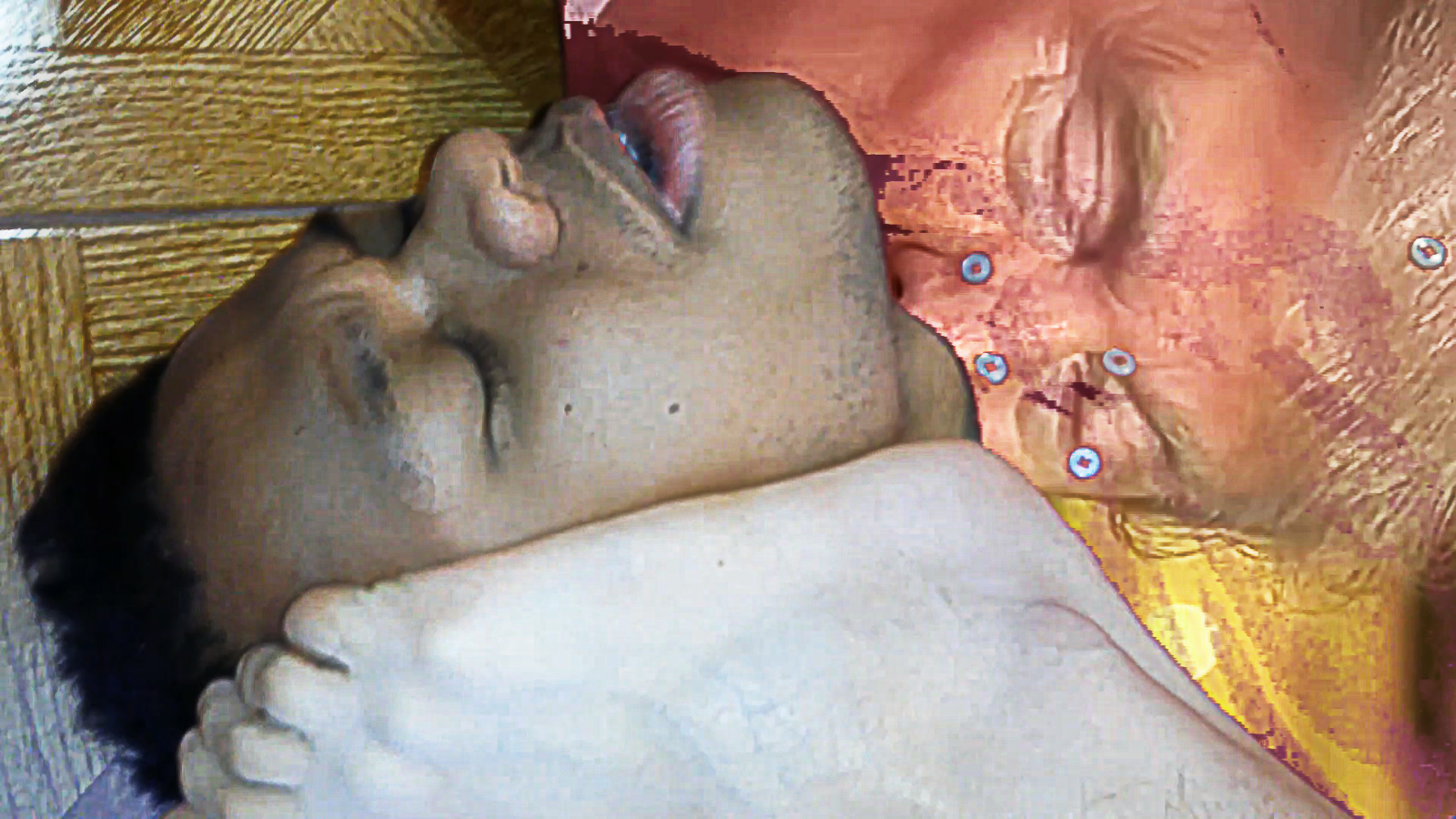 Miriam Gossing & Lina Siekmann: Desert Miracles, 2015, Cologne ( 11:40)
'Desert Miracles' is a cinematic exploration of a commercialized architecture of desire. Across 22 different tableaus the film meditates upon the interiors of Nevada's wedding chapels, considering how the excessive scenery opens up to constitute a cultural organisation of "Love". A woman's' voice is heard reading out an ambiguous letter to an unknown lover in which she finds herself troubled by the challenges of modern relationships, unable to negotiate a balance between self-fulfilment and optimization.The text is based on anonymous posts by different women in various internet wedding forums. One fictional female character is composed out of many assembled perspectives on desire, relationships and social expectation.
JAN SOLDAT: A weekend In Germany, 2013 (24:34)
Manfred and Jürgen, both in their mid-70s, are enjoying their free Saturday. Lying in the sun, working in the garden and having tussles. On Sunday, Rosi, an old pal of theirs, comes around to join their SM-Bondage-Session. An ordinary weekend in Germany.
Viktor Brim – MONOSCAPE
Apparaturen und Verlademechanismen in einem Hafengebiet wandern in ständiger Bewegung, rhythmisch und zielführend entlang des Kais. ISO-Container in verschiedenen Farben werden gehoben und an anderer Stelle platziert, zwischendurch gibt es Momente der Bewegungslosigkeit und Stagnation. Größenmäßig den Maschinen weit unterlegen, stehen vereinzelt Hafenarbeiter in orangenen Warnschutzjacken inmitten der Verlade- und Containerbrücken. In der hereinbrechenden Nacht verän- dern sich die Abläufe und lassen nur noch Schatten und Silhouetten der fortwährenden maschinellen Prozesse zurück. Monoscape zeigt Frag- mente, Formen und Bewegungen eines industriellen Zyklus.
Durch die ruhigen und dokumentarischen Bilder gewinnen die Abläu- fe der Maschinen eine repetitive und allgegenwärtige Dimension. Aus ihrem zweckbestimmten Zusammenhang herausgelöst, wirken sie wie anonyme ruhende Objekte in einer technisierten Landschaft.
Linda Nadji: AufZu, 2009 (1:39)
Linda Nadji (*1972 in Teheran) studierte an der Kunstakademie Düsseldorf in der Klasse von Prof. Hubert Kiecol (2011 Akademiebrief, Meisterschülerin). Zuvor absolvierte sie eine Schauspielausbildung am Zentrum für Schauspiel & Tanz, Köln, sowie ein Designstudium an der Fachhochschule Aachen.
Franca Scholz – Radical Slackerism (3:11)
For the video Radical Slackerism a dancer is filmed which is doing repetitional, machine-like practices. These scenes alternate with a character lying in a bed. In the duration of a music video, these scenes are splited through text, a whispering voice and sound. The idea is to create a space of thoughts that doesn't follow linear narration. The video deals with different questions about the human body in the digital age, with the female body and mind and the reflection of becoming a cyborg. Through questions that seek in different directions about the body and the possibility of a new playfullness with its materiality, different discourses and statements are activated.
Walter Solon – Downtown Research pt. 1: Demolidora Solon (13:34, 2015 | Brazil / Cologne)
With his grandfather's sudden death and his father's philosophical eremitism, 18-year-old Walter Solon inherits the family business: Demolidora Solon, a São Paulo-based demolition company. Yet Walter's entrepreneurial inexperience, political idealism and stubborn aestheticism soon lead to the company's collapse. As he tries to negotiate his future with the striking workers, he uncovers his grandfather's illegal labor practices. Succumbing to family pressure and free-masonic arrangements, what follows is a reassessment of personal demolished memories in the cityscape and a series of international escapes — beginning in Israel and Palestine.
Downtown Research pt. 1: Demolidora Solon is the first episode of an auto-fictional photofilm, to be concluded with pt. 2: Bruch Abbruch and pt. 3: La recherche des centres, filmed in Germany and France, respectively.
Mona Kakanji – Window Shopping ll (05:30, 2015 | Iran / Cologne)
Window Shopping ll indicates and captures subtle notions of cultural and social conventions in the realm of public showcases. Diverse fragments of public displays in Tehran (an Eastern City) and Cologne (a Western City) are comparatively observed through a rhythmic montage. Window Shopping ll is a twofold essay on cultural and personal identities, in between the public notion of east and west. The film also evokes the personal narration of a journey. Merely through the tandem images of windows, the film calls into question the personal perception of a culture in relation to one's identity. Clothing items, mannequins, lighting and backdrop, as well as the supposed viewer position of each window reveals characteristics of the two cities accordingly.Furthermore, the relationship of each culture to aesthetics, gender and consumerism is present. The film reflects on conception of public or private, East and West, gender, as well as personal and cultural identity.
Sebastian Thewes – Polarflux (10:00, 2015 | Cologne)
For the project Polarflux Sebastian Thewes was concerned with the topics landscape, wilderness and nature and our relationship to it and the way we are picturing and documenting it. Sebastian Thewes traveled to the polar region in the northern Scandinavia to collect photographs and audiorecordings from the unique landscape of the region above the polarcircle.
The terms landscape, wilderness and nature have a slightly different meaning in different cultures and for different people in different periods. It depends on cultural, religious and much more dependencies.
For the Sami the ancient people of the European polar region nature is a souled place and every part of it is alive. In classical Roman religion a genius loci names the soul of a place or its spirit. The romantic sees nature as a counter pole to the society. It uses nature and landscape as a symbol. In our modern western culture the perception of nature is shifting between many different conceptions. On the one hand we are destroying nature with our industrial progress but on the other hand we are seeing nature as a spot for the enjoyment of our individuality by doing sports or traveling. The project Polarflux is shifting between different ideas of landscapes. The viewer is flying through 9 Scenes which represent 9 fictive places inhabited by different sprits. It is rying to work out our somehow disharmonious or maybe even dishonest relation to nature in an slightly ironic way. The used nature photos are photographed in the polar region and mixed up with found footage and algorithmically generated patterns. The audiorecordings consist out of field recordings from the region combined with soundrecordings from the NASA and synthetically created material.
Stefan Ramirez Perez – AS MUCH AS ANYONE (16:43)
"I've done a lot of work. Real work, internal work over the years. I had to. With all my experiences, I had to get in touch with my value and who I am as a person, and knowing that what I bring is worthy and good and all that. So i just had a little conversation with myself."
AS MUCH AS ANYONE fuses documentary footage of aspiring and former actresses in Los Angeles with (re)staged scenes appropriated from films about actresses. Four actresses take on various roles, playing themselves, and re-staging each other. As representational modes alternate between fiction and documentary, identities are continuously shifting and form an ambiguous body of at times contradicting narratives questioning notions of authenticity and construction of the self.
Jorge Loureiro – Transcendental: The Impacting Secrets of Daily Life/ An Attempt to Self-Reinvigoration (15:05)
There are thousands of people filming and performing the unboxing of goods and sharing their recordings on the internet. In the video, this performance is reenacted, unfolding it into a nauseating narrative. The video reflects upon leisure, and the normalization of certain modes of privacy and self-exposure.
Linda Franke – Inland Freaks (14:04, 2014 | Cologne)
The video Inland Freaks explores the particular atmosphere of family relationships. Oscillating between intimacy and distance, brother and sister trust each other just enough to be honest, demanding and unfair to each other. They want to confess to each other that they are not human and that they have known this about each other all along, but they don´t know how to start. By collaging fragments of authentic dialogue with scripted fictional elements the boundaries of what is real and what isn't become blurred.The melodramatic encounter takes place somewhere in space, but the illusion of a three dimensional space is constantly disturbed by the camera zooming in on the surfaces of objects and bodies. Nothing stays the same—both the bodies and the environment they inhabit perpetually implode and explode into one another.
TEN by MAETH (3:42)
MÆETH war eine Band, die im Jahr 2014 in Italien gegründet wurde. Der im gleichen Jahr entstandene Song "Ten" machte aus der Gruppe ein One Hit Wonder.
Passend zum Song brachte die Band ein Musikvideo heraus, das sich in seiner Ästhetik an den 90er Jahren orientiert. Mit ihrer ersten und einzigen Singleauskopplung feierte MÆTH im Jahr 2014 ihre größten Erfolge.
Die Idee zu dieser Gruppe hatte Nicola Gördes, die später Managerin der Formation wurde. Nach dem Erfolg der Single trennte sich die Band unter mysteriösen Umständen im Jahr 2014 wieder. Es gab danach lange Zeit Gerüchte über ein Comeback der Band. Bisher hat man allerdings nie wieder etwas von der Formation MÆTH gehört.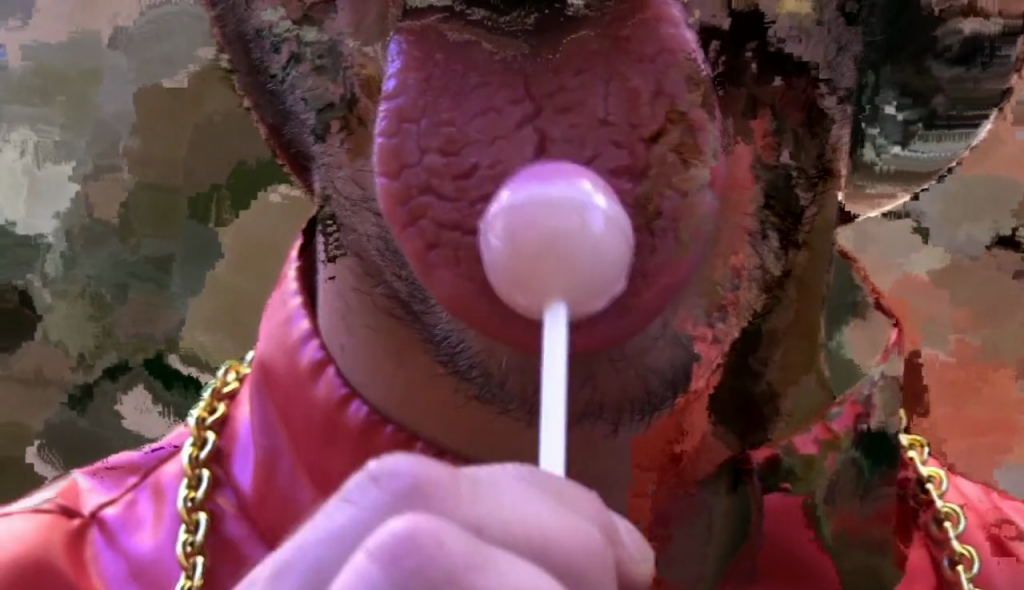 Heidi Hörsturz – Yoyu Attack / Tiefgarage (3:00)
The mediaartist "Heidi Hörsturz" is working in the fields of audiovisual performance, video and soundart. Her work have been presented at international exhibitions, gallerys and art festivals. Her animations, live shows and installations combining contemporary art and modern digital trash aesthetics. She published a series of limited soundart vinyls and audiotapes which researches the connection of noise, artificial overstimulation and constructed visual associations.
Jérôme Chazeix – Die Monade, Kampf auf der astralen Ebene / Tiefgarage (13:32)
The animated film "The monad, battle on the astral plane", (2009- 2014, 4 min. 31 sec., Three times repeated in a 13 min. 32 sec. HD video loop with music), consists of approximately 4800 individual drawings. A musical and colorful environment blends with language and electronic sounds to a Gesamtkunstwerk together in which to find elements of space, science fiction and anime are, and form a dialogue about the human being as pure cosmic energy. It explodes, pulsates, poeticizes and metaphors … a secret way to explain life. The film is a dense network of relationships forming, at the end of a large-scale Total installation to be expanded. Here, the space forms with the film at the center of the container transforms it to Plato's cave.
Jérôme Chazeix's works are contemporary total works of art. The approach of his work consists in the association of different media and their cross-over. Sculptures, videos, music and drawings are the elements he privilege in his creation. They are integrated, among others, to his installations, environments or performances, and combined to form an overwhelming and complex scenery, leading to a crystallization, an associative process much alike a network of facets or cosmos. Performances, which form part of the whole concept, are frequently realised in the installations and permanently presented as videos. Like a graphic contamination the staging take possession of all walls and invite to a specific atmosphere.